Michael Jackson (1993)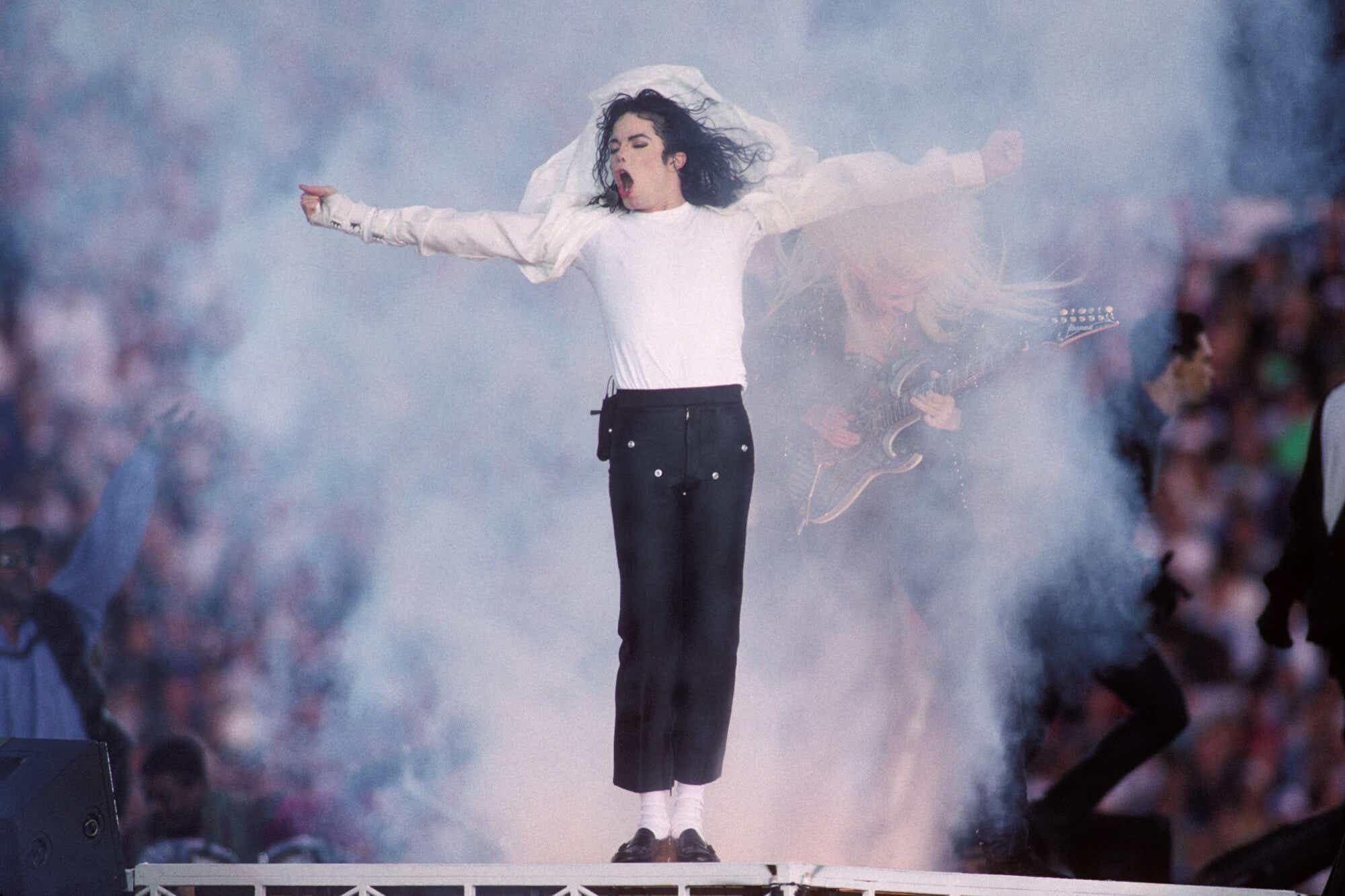 This one is complicated: Many people are no longer able to engage with Jackson's music after he's been credibly accused of deeply upsetting crimes. But the fact is that it's just about impossible to discuss Super Bowl performers without including him, and that's because he basically invented the halftime show as we know it today. Before this, the mid-game entertainment was largely comprised of university marching bands and covers from groups like Up with People. Bringing in a headliner like Jackson totally paid off, and that year's game saw a ratings spike of 8.6 percent. And if you need a reminder of just how big of a superstar the King of Pop was at the time, look no further than the fact that the audience enthusiastically applauded while he stood still for a full 90 seconds of precious airtime before beginning the show.
WATCH HERE
Diana Ross (1996)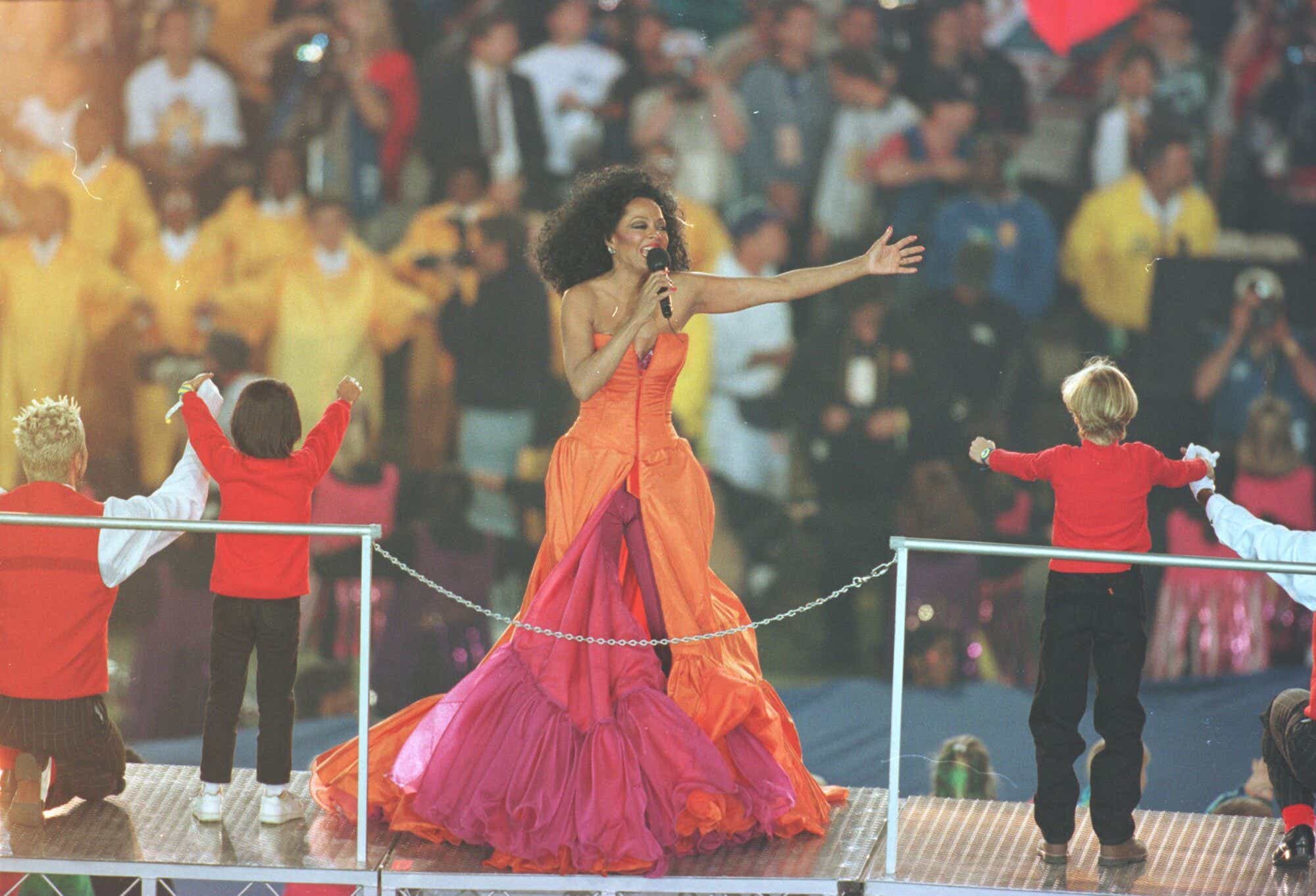 When you've got as many iconic hits to your name as Diana Ross, it would be easy to knock out an audience just by standing there and singing them. Of course, that's not what this music legend did. After running through classic songs like "Stop! In the Name of Love," "You Keep Me Hangin' On," and "You Can't Hurry Love" while riding a crane, singing along with a choir, and unleashing thousands of balloons into the stadium, she pulled off the most show-stopping exit of all time: A helicopter landed on the field and flew her away as she belted her 1995 hit "Take Me Higher."
WATCH HERE
U2 (2002)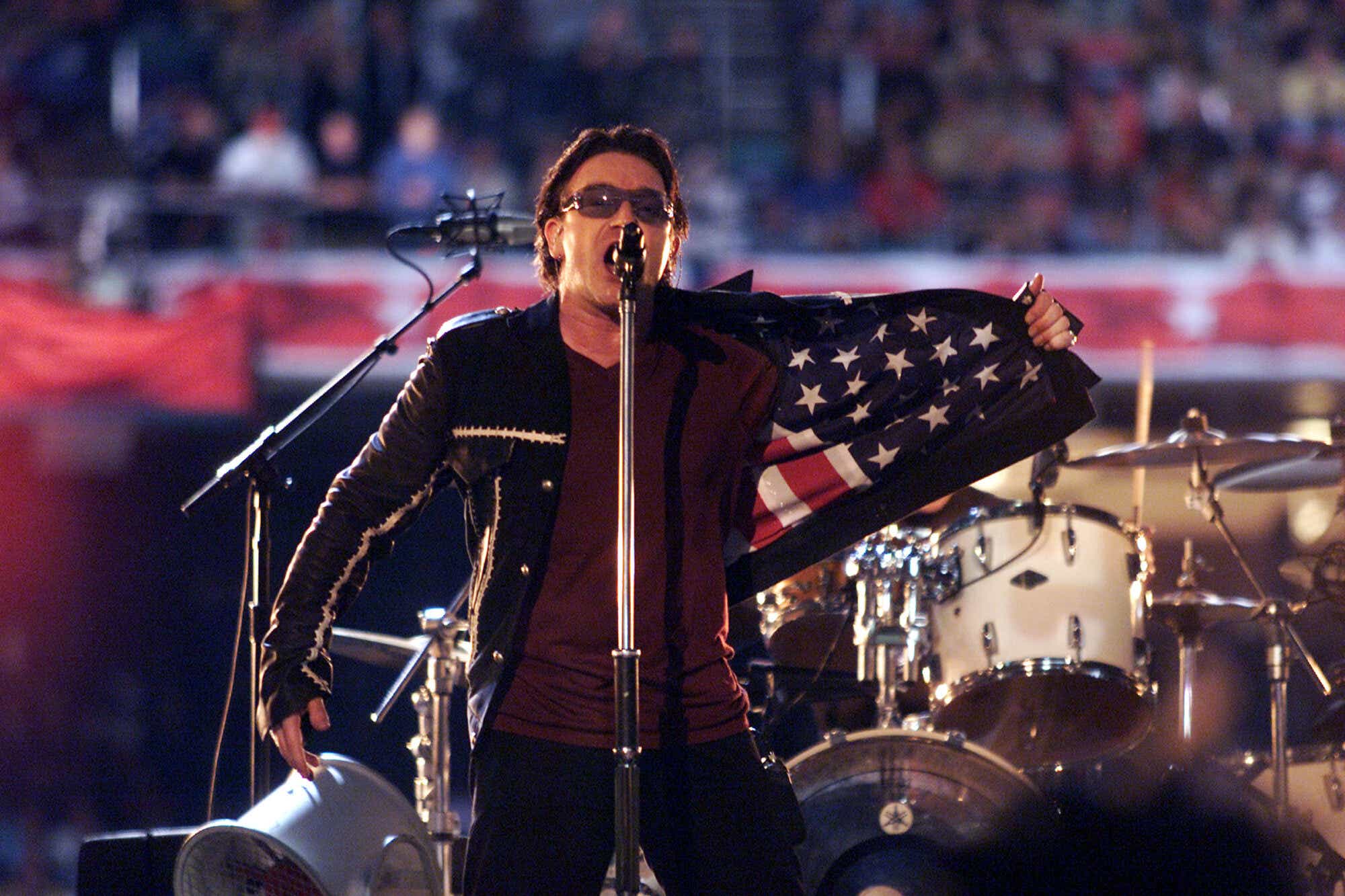 For the first Super Bowl after 9/11, the NFL knew just who to call for a cathartic halftime show that spoke to the moment: U2, who was then (and remains now) one of the biggest rock bands in the world. They kicked off with their rousing hit "Beautiful Day," but things took an emotional turn when the lights went down and a list of Americans we'd lost appeared behind them as they played "MLK" and "Where the Streets Have No Name." When Bono opened his leather jacket to reveal the stars and stripes as he sang his final note, there wasn't a dry eye in the house.
WATCH HERE
Janet Jackson and Justin Timberlake (2004)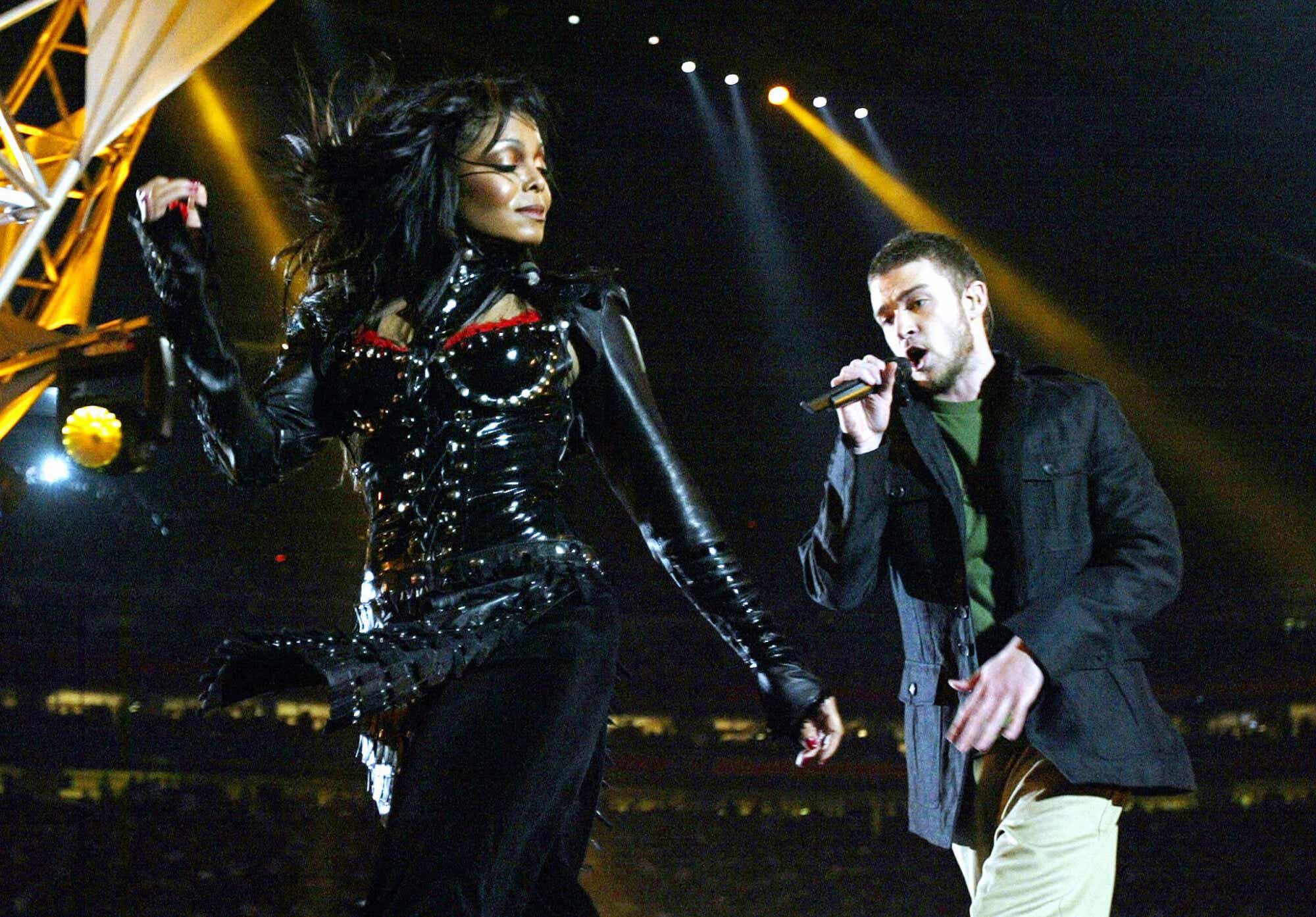 A couple of caveats here: First of all, Janet and Justin weren't the sole headliners in 2004. They were also joined by Jessica Simpson, P. Diddy, Nelly, and Kid Rock, but we've specifically spotlighted this duo as the stars of the show for reasons we don't need to explain. And secondly, this might not necessarily be one of the "best" performances in Super Bowl history, but it's unquestionably one of the most monumental. It coined the term "wardrobe malfunction," caused a media firestorm about inappropriate programming in prime time, and generated 540,000 complaints to the FCC. Janet's career never quite recovered (it was later alleged that CBS exec Les Moonves set out to "sabotage" her after the incident), and nearly 20 years later, there are still questions about whether exposing her breast was a planned stunt. But if anyone says something about the Super Bowl halftime show, chances are this is one of the first that will pop into your head.
WATCH HERE
Prince (2007)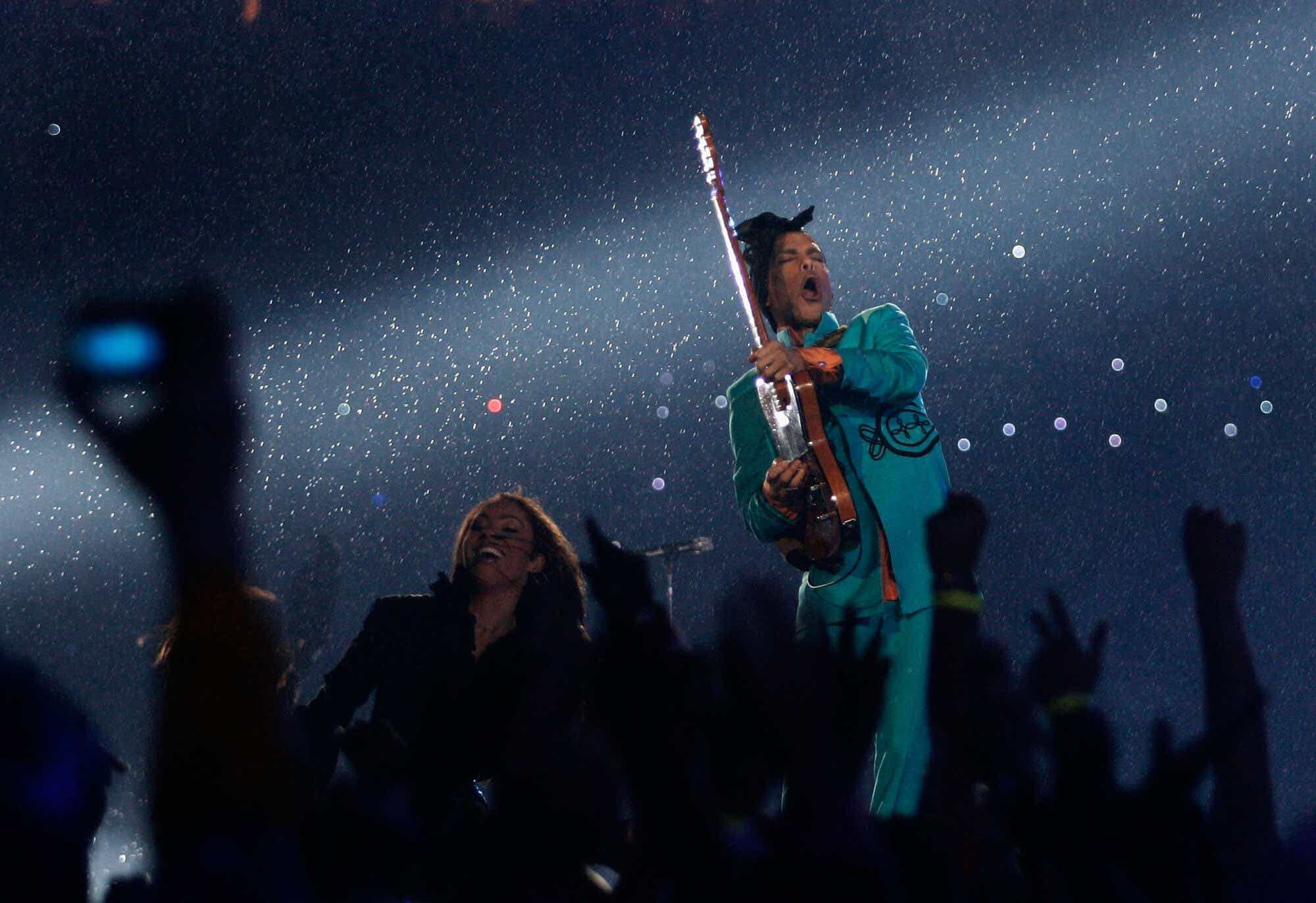 Just three years after "Nipplegate," it was an interesting choice to slot in a performer as notoriously sexually supercharged as Prince. He didn't disappoint on that front — in one memorable moment, he stood behind a sheet, visible only in bigger-than-life silhouette as he held his guitar in a particularly, um, phallic way. But he also brought the musical artistry as only he can, and it culminated in a jaw-dropping finale as he rocked out to "Purple Rain" amid actual precipitation. On the morning of the game, a producer called Prince to warn him about the forecast, which garnered the perfect response from the star of the show: "Can you make it rain harder?"
WATCH HERE
Bruce Springsteen & The E Street Band (2009)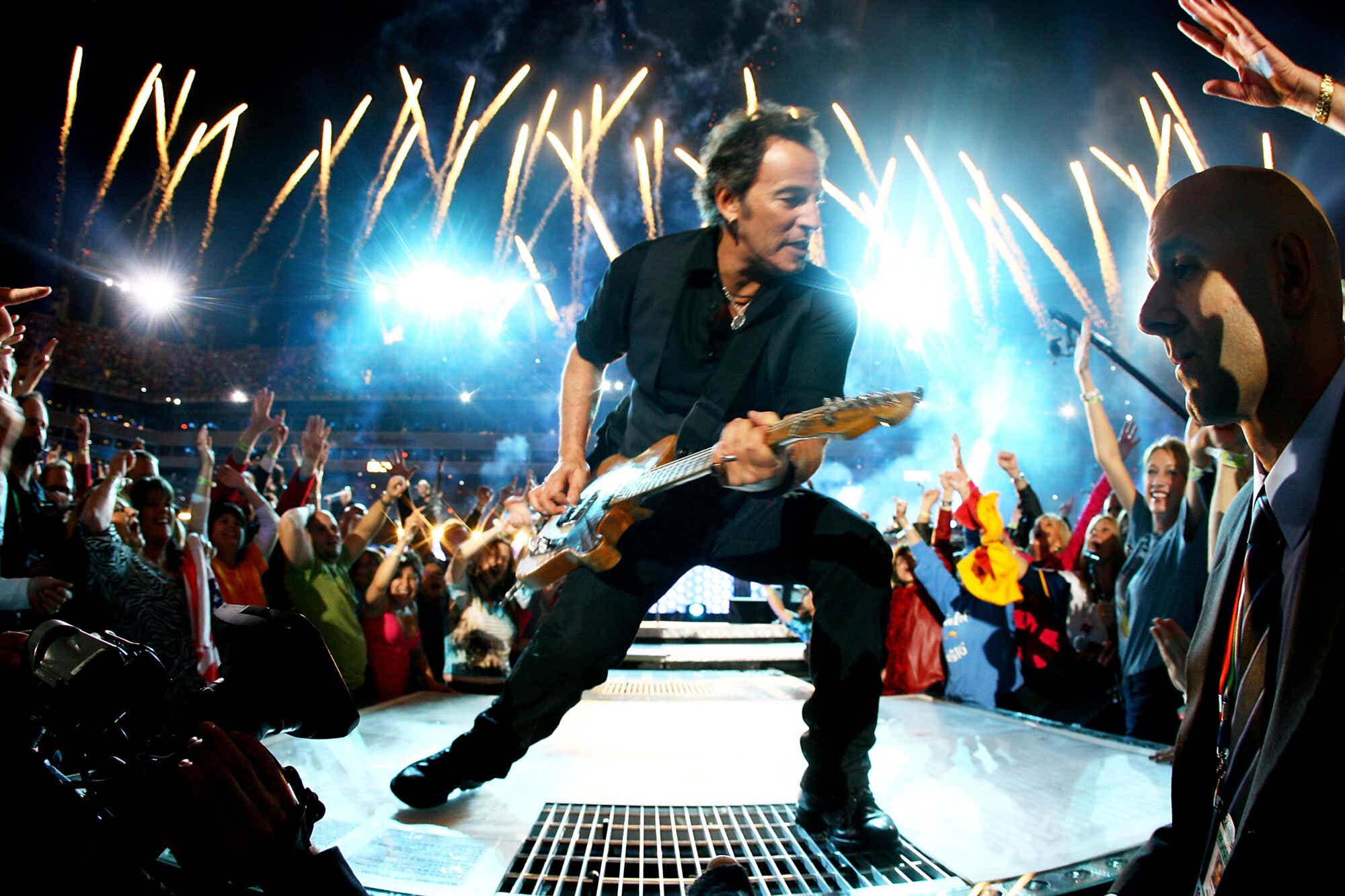 Most of the artists on this list brought some special oomph to make their show feel worthy of the grand stage where it took place, but Bruce and his band didn't need a fancy set or multiple costume changes to bring the house down. For some reason, few acts feel as inherently American as Springsteen, and it's incredible how much energy he can generate just by standing there and shredding on the guitar. But with singalong anthems like "Born to Run" and "Glory Days," how could he have gone wrong?
WATCH HERE
Madonna (2012)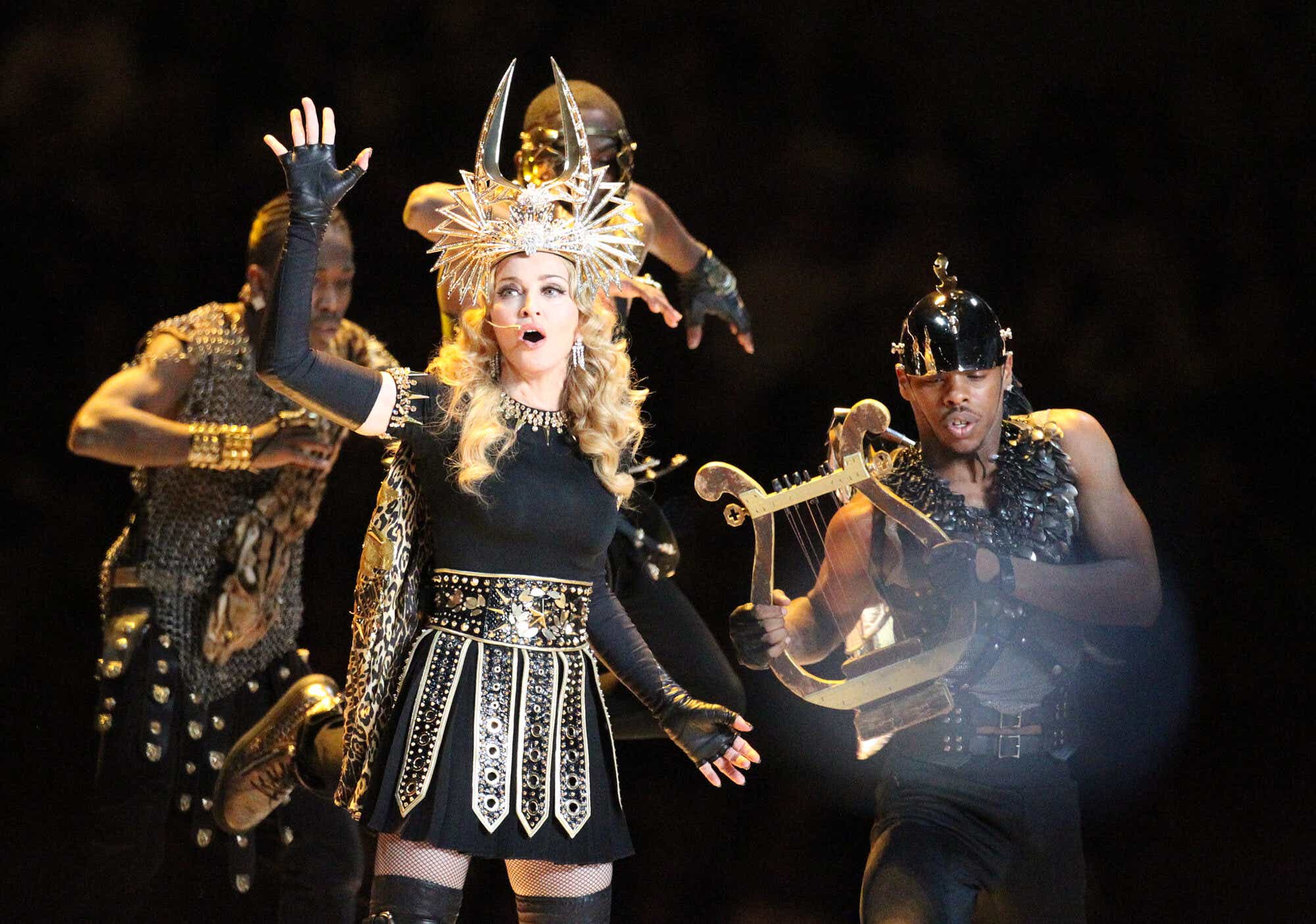 From the moment Madonna entered the field on a giant golden throne, it was clear we were in for an unforgettable thrill ride through her decades of hits. After running through chart-toppers like "Vogue" and "Music," she capped things off by sharing the stage with CeeLo Green, who joined her for a marching band medley before they took us to church with a life-affirming rendition of "Like a Prayer." The performance was such a success that Madonna's 13 minutes of pop bliss actually garnered a higher rating than the game itself.
WATCH HERE
Beyoncé (2013)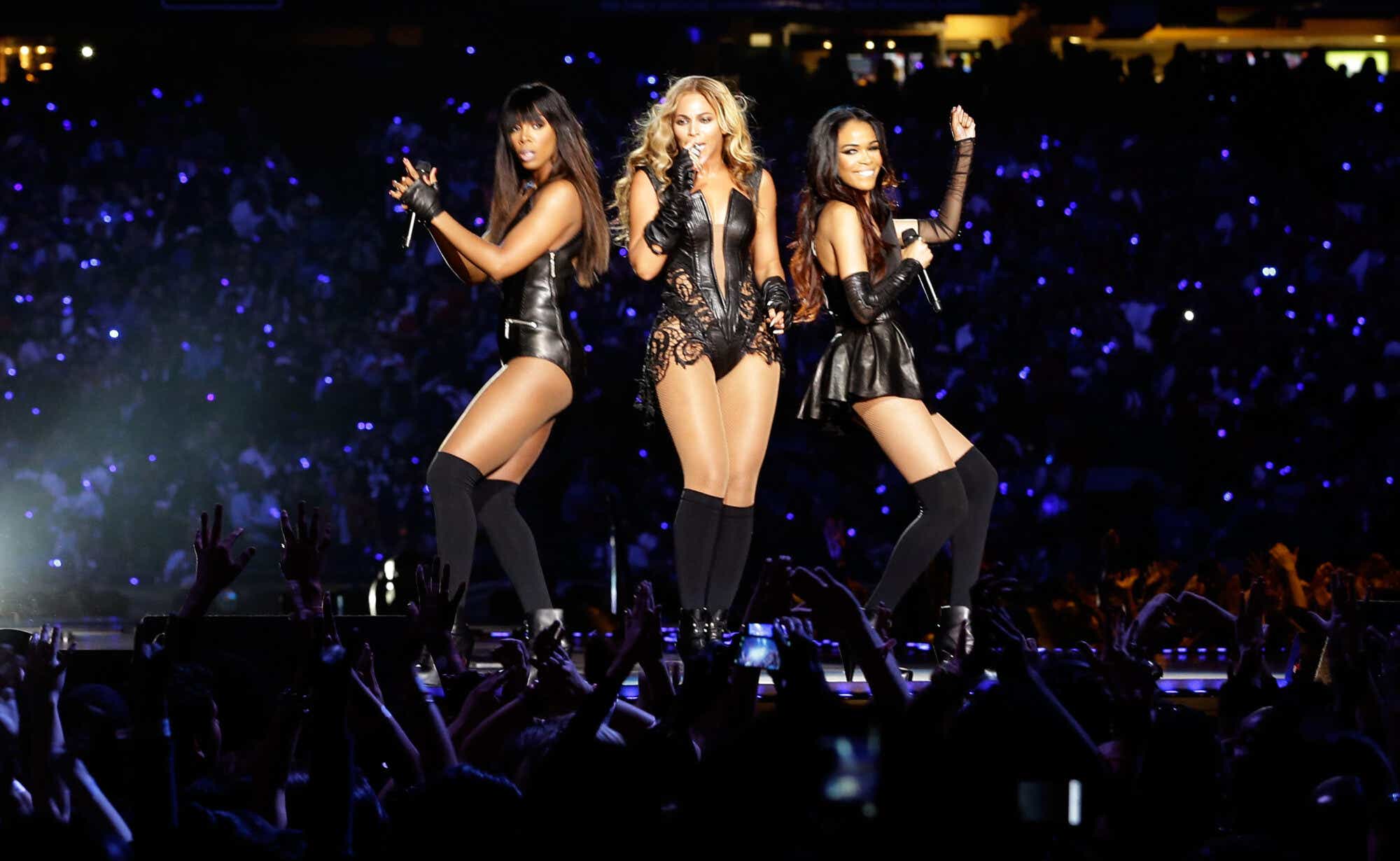 Five years before she delivered the defining live performance of the 2010s with her 2018 Coachella set, Beyoncé blessed us with a Super Bowl show for the ages. She started out with a run of her solo bangers, including "Love on Top" and "Crazy in Love," then segued into the Destiny's Child reunion we'd all been waiting for. The audience went wild as Kelly and Michelle hit the stage for a nostalgic medley of "Bootylicious" and "Independent Women Part 1" — and they even stuck around for "Single Ladies." Of course, the finale was all Queen Bey, who brought us home with an emotional performance of "Halo." (As an aside, this show will also be remembered in posterity for being the time Beyoncé's publicist insisted Buzzfeed take down these photos from the show, which only led to them being seen more widely.)
WATCH HERE
Lady Gaga (2017)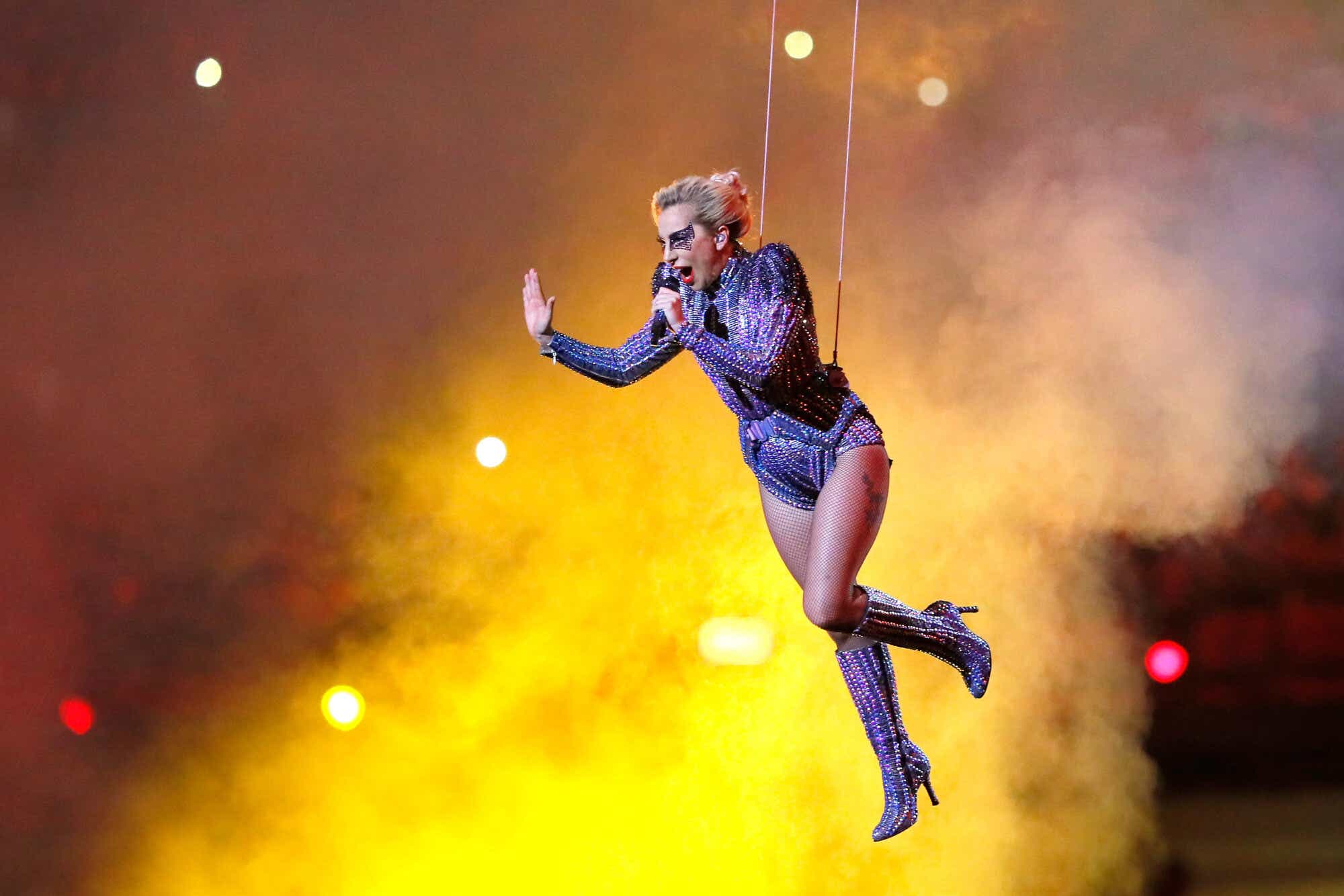 You may have forgotten that there was a whole lot of hand-wringing before this performance about whether it would include a grand political statement. This was the first Super Bowl after Donald Trump's election, and lots of Democrats hoped Lady Gaga would take the opportunity to torch the controversial president on the national stage. (The NFL even issued a public statement denying reports it had banned her from mentioning Trump's name.) Instead, the theme was unity, which she made clear from the jump, opening with "God Bless America" and "This Land Is Your Land" from atop the stadium, with a backdrop of glittering red and blue drones. From there, it was classic Gaga — energetic choreography, unimpeachable vocals, sparkling costumes, and a climactic "Bad Romance" finale.
WATCH HERE
Dr. Dre, Snoop Dogg, Eminem, Mary J. Blige, and Kendrick Lamar (2022)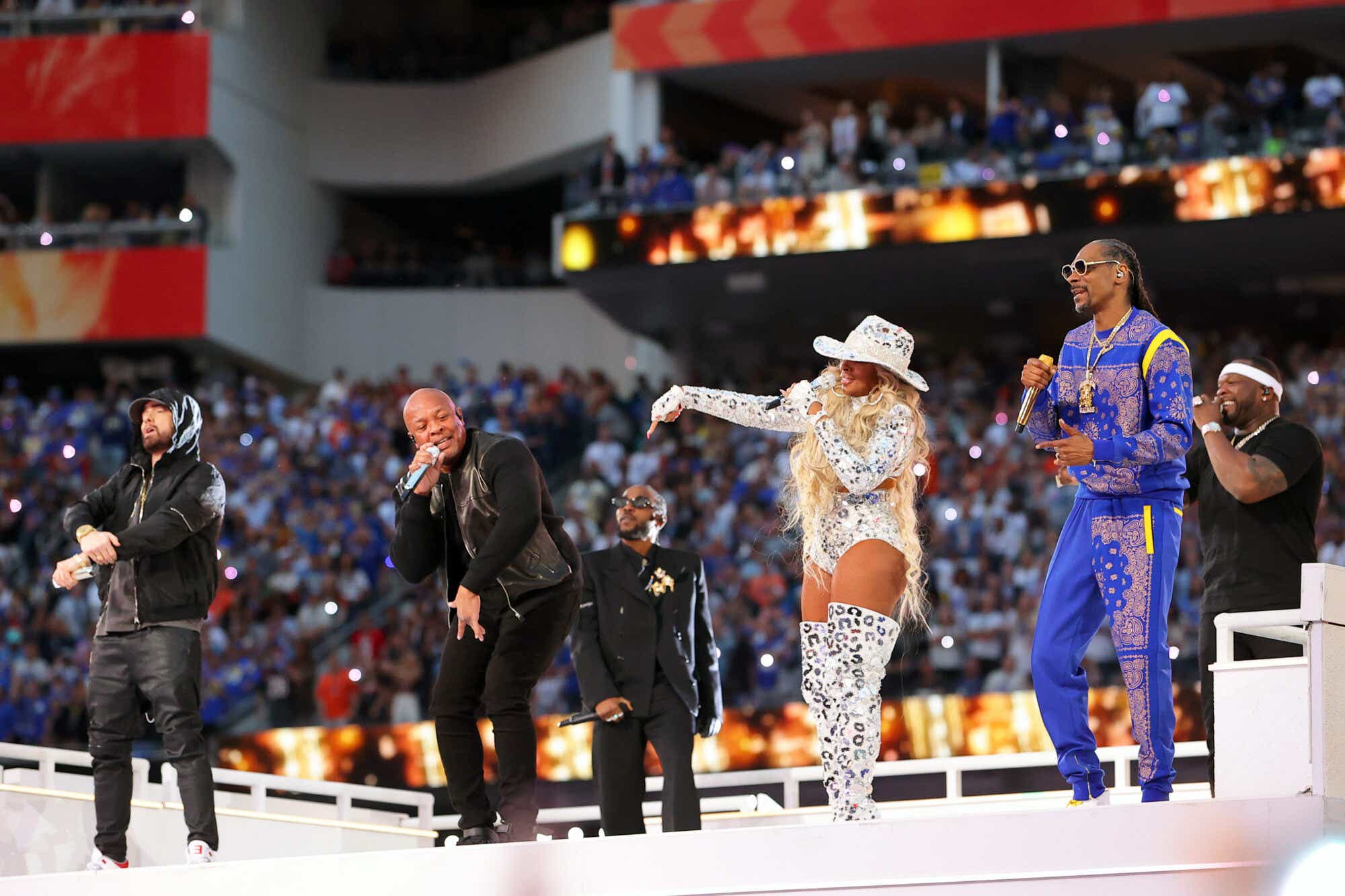 Last year's halftime show was part party, part history lesson. Some of the most towering figures in hip-hop came together for a spectacle we won't soon forget — and the all-star headliners were only part of it, since the performance also included surprise appearances by Anderson .Paak and 50 Cent. The show had everything from nostalgia (Dr. Dre and Snoop doing "California Love" — in Inglewood, of all places) to politics (Eminem taking a knee, in what many read as support of Colin Kaepernick), but most of all, it was a total blast.
WATCH HERE