A 13-year-old boy drove the pickup truck involved in a fiery head-on collision in Texas that killed nine people, including six University of the Southwest golfers and their coach, a National Transportation Safety Board official said Thursday.
Preliminary information indicates the left front tire of the pickup was a spare that failed, causing the vehicle to pull hard to the left into oncoming traffic of a two-lane roadway, NTSB Vice Chairman Bruce Landsberg said.
Investigators were able to identify the remains of the driver by his size, Landsberg said. Both vehicles were probably moving close to the posted speed limit of 75 mph, he said.
In Texas, a minor can begin the classroom part of a driver education course at 14 but must be at least 15 to apply for a learner license,
swarovski jewelry
according to the public safety department website.
Henrich Siemens, 38, of Seminole, Texas, was in the truck with the boy, authorities said. He was among the nine people killed in the Tuesday evening crash.
The students are recovering and making steady progress, University of the Southwest Provost Ryan Tipton said Thursday.
"One of the students is eating chicken soup," Tipton told reporters. "I spoke with the parents and they are there with them and they are recovering every day. It's a game of inches and every hour leads to them one step closer to another day… There is no indication as to how long it's going to take but they are both stable and recovering and every day making more and more progress."
According to the Texas Department of Public Safety (DPS), a Dodge 2500 pickup drove into the approaching lane of a highway just outside Andrews, Texas, and hit a Ford Transit van carrying members of the New Mexico university's men's and women's golf teams.
DPS Sgt. Steven Blanco said "the Dodge pickup drove into the northbound lane and struck the Ford passenger van head on."
Six students and a coach in the van were killed as were the driver of the pickup and a passenger. Two other golfers were initially in critical condition at University Medical Center of Lubbock, Texas, according to the Texas Department of Public Safety.
The NTSB dispatched a 12-member team to investigate.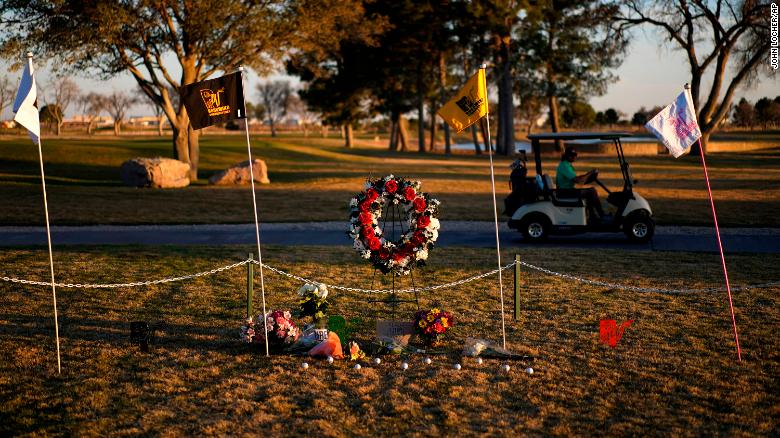 "It was very clearly a high speed, head on collision between two heavy vehicles," Landsberg told reporters.
Landsberg said in it's unclear why the full-sized spare blew out before the crash.
"On the highways 100 people (are killed) a day," he said. "Every two days we are killing the equivalent of a Boeing 737 crashing. Now just think about that. That's what's putting this into perspective. And it's long overdue that we start to do something about it."
Emergency responders heading to the crash were told by a dispatcher there were two vehicles on fire with people trapped inside, according to recordings on Broadcastify.com, which monitors radio traffic among many emergency departments.
One of the first responders to arrive said: "All units, I've got wrecked units on both sides of the highway, fully involved vehicles. I'm still trying to get up on scene and see what we have."
Members of the men's and women's golf teams at the University of Southwest were traveling back to their Hobbs, New Mexico, campus from a tournament in Midland, Texas, school officials said.
The remainder of the
red wing shoes
two-day tournament, hosted by Midland College, was canceled. There were 11 schools in the competition, which included both men's and women's teams, Midland College Athletic Director Forrest Allen said.
The weather in the area of the crash was clear with no fog, CNN Meteorologist Chad Myers said. There were no freezing temperatures, and the wind was light at around 5 to 8 mph.